Clients
Below you will find examples of a few sites that we have designed & published for customers. Each button is a link to the site itself. This only represents a small sample of work but should give you a taste of our designs. Click on the headlings below to see more detail.
We have also worked extensively on some large Intranet sites for companies such as Zeneca now AstraZeneca in Manchester but obviously we cannot show you these but references would be available on request.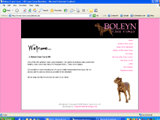 Boleyn Cane Corso
One of the UK's premier Cane Corso breeders. Our goal is to produce solid, sound and healthy Cane Corso that follow FCI Standard #343 – Cane Corso Italiano. Our priorities in each breeding are of course health, temperament and type, but we always aim to come as close as possible to the standard....
James French Specialist 4X4 Center has had such a massive response to his business via his web site he has asked up to update it with a clean, fresh proffesional look. This is good for us as it proves that the web as an advertising and working media really achieves results if the design and construction is done correctly.
We are currently working on this project
After the success of NIC.ly (see below) we were asked to bring the Top level .LY domains registration service into the 21 century. We have now produced a complete online ordering system for them to include full secure credit card payment and tracking system. Since then the domains have apparently been flying in from all over the world with top names like BMW and Mercedes Benz registering.
Phoenix Model Flying Club (PMAC) are a small Club based in North Cheshire. Their activity is primarily aimed at sports flying of radio controlled fixed wing aircraft and helicopters. Being a members of the club and when the discussion about a club website came up one sunny afternoon we thought we better oblige.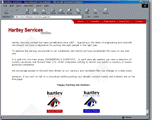 Hartleyjobs.com
Hartley services wanted to get onto the internet with a small initial outlay just to see what response they would get. The site has only been live for a couple of weeks so we shall see. We are already talking about stage 2 with a full online database facility for viewing and searching vacancies and candidates.
nic.ly is the web site for the registration of top level domain names for Libya. Again in affiliation with them we offer complete design services for new and existing companies wishing to benefit from advertising on the Internet which is growing rapidly in the far east.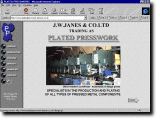 Plated Press
Plated Pressworks recently saw their competitors on the Web and decided to advertise globally.They merely wanted their brochure put online. Now , after winning a large contract because of it we are currently talking about a complete re-vamp and expansion programme taking their site into the next milenium.
J
ames French
James French came to us some 2 years ago now wanting to put a presence on the web. From his site you can browse his stock list or search for a vehicle that you are looking for.Plans are on the table for next year when he expands into selling spare parts for an on-line ordering system.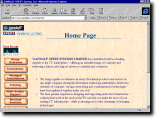 Gandalf Systems
Gandalf Expert Systems Ltd are a multi national company with sister companies worldwide. We have initially completed their UK site and are working on their Irish site with great potential for other sites to follow. Since completion the site was given to Gandalf who have maintained it themselves but the origonal design was completed by us.